Maraleen brings a special perspective to the world of butterflies.  She has been raising, tagging and releasing them for forty years, was the first non-native woman to find the monarchs' overwintering habitats in Mexico in 1977 after a two month search in the mountains, and has been returning to Mexico ever since working with the mountain people. Her butterfly gardens in Shokan are open to the public a few times each summer and she is a Master Gardener.  
She has also had a gallery dedicated to the butterfly, Chrysalis, a Place for Dreamers, choreographed dances, created art and wearable art, given lectures, and planted gardens for them. She has worked at the butterfly conservatory at the American Museum of Natural History in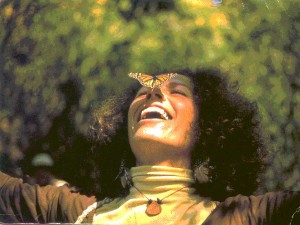 New York City for sixteen years. She continues to share the many messages of the butterflies as she travels, giving lectures and workshops around the country.
She has worked to save monarch habitat here and in Mexico through a non-profit reforestation group, which has helped plant over six million trees in and around the monarchs' overwintering habitats.
She has also initiated and coordinated a reforestation project in Haiti helping to establish two tree nurseries in impoverished communities that are now capable of planting a million trees a year.
Her newest campaign is:  Saving the Planet One Garden at a Time